Windows 10 1507 not supported after 9th May 17
When Windows 10 was released back in July 2015 it was hailed as the last version of Windows. Well that is not the case.
Microsoft licensing and versions practices have always been a dark art. Windows 10 licensing is no different. Microsoft have said that they will support versions of Windows 10 for 18 months from release meaning that they will provide fixes and security updates to that version.  After 18 months you will need to upgrade to a supported feature release.
The first version to be effected is 1507. The 1507 release won't just stop working, but it won't get updates of any kind after 26th March. This is all part of Microsoft's grand "Windows as a Service" plan. No updates is one way of getting users to move to a more recent release. From 9th May you will need to be on 1607 or later to get security fixes and updates; so plan, test and update now. Related to this if you are running Windows 7 you have until 14th January 2020.
How to check what version of Windows you are using
Go to Start, enter

About your PC

, and then select

About your PC.

Look under

PC

for

Edition

to find out which version and edition of Windows that your PC is running.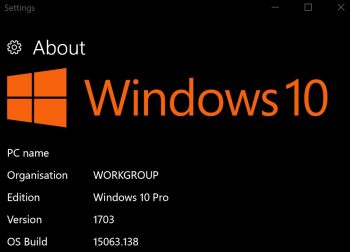 If you have a Cyber Essentials certificate or are planning to get it (Speak to us for more information) and are running Windows 10 1507 you will not be able to gain that certification as you will be using an unsupported operating system.
Details of Windows 10 release information on Technet and the life cycle.